! Snagaway Web Page developed by JP Systems and Such> <! E-mail: jpsys@hotmail.com> <! body background=./snagbck2.gif link="#0000ff" vlink="#ff0000">

Antique Snagaway Products For Sale

If you've read the Snagaway Story, you know that Harry started selling the Snagaway Luresaver in 1970. Well, we have original boxes and P.O.S. posters from c. 1968 in MINT CONDITION! We'd be using the boxes, except for the fact that they don't have our address on them and they are stamped with a price of $6.95. Given inflation, our current price of $14.95 is a bargain!

The boxes can be purchased for $2.00, including postage and handling.

The posters can be purchased for $15.00. There are less than 50 posters in existence, so don't wait!

The Original Snagaway Box Cover: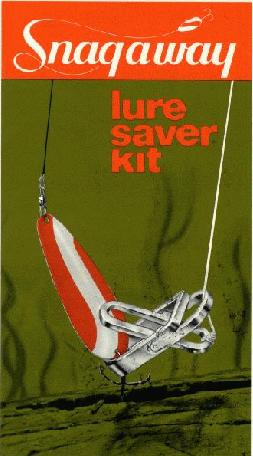 Simply print and mail the form located on the Snagaway Pricing/Purchasing page.

<! Text menus>
The Snagaway Home Page |
The Snagaway Story |
Pricing/Purchasing
Upcoming Shows and Events |
How to Use Snagaway |
Fish Tales and Snagaway Stories
---
<! End Text Menus> © Copyright 1997-1999 by Snagaway™. All rights reserved.